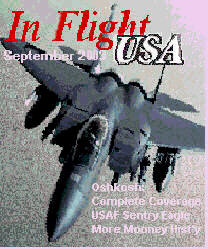 <! a href="history.htm"> History<! /a>

<! /end of Secondary Table>
| | |
| --- | --- |
| | Aviation History |
---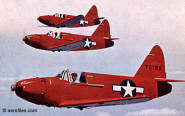 Mooney
Magic:
Wooden
Wonders
(Aerofiles.com photo)
(Excerpt)
Copyright 2003 by Richard Harris
Here's the "recap" of last month's story, which begins this month's story. For the WHOLE story, and pictures, pick up a copy of the print edition of In Flight USA, at your local aviation business...
Young Al Mooney, studied aircraft engineering at the Denver Public Library as a boy. In 1925, he impressed local entrepreneur J.Don Alexander with his aeronautical knowledge, and was offered the chance to work for Alexander Aircraft, as they developed the Alexander Eaglerock. It flew poorly, or not at all, in the thin air of mile-high Denver. With backing from Alexander's engineer, 19-year-old Al persuaded Alexander to let him design a better plane – the very effective, stong-hauling Alexander Long-Wing Eaglerock – starting one of the most successful biplane families of the 1920's. Mooney privately nicknamed the plane his "M-1" – first of many Mooney planes.
Young Al teamed with his mechanic-brother Art and skilled metalworker Bill "Mac" McMahon as a talented trio of airplane craftsmen, with Al the visionary engineer leading the pack. They would remain lifetime colleagues, roaming the country in search of Al's dreams. Restless Al took a shot at being "chief engineer" for a start-up company in Marshall, Mo. (Kansas City suburb). The Montague monoplane company faded before Al could get his parasol-winged "M-2" into production. He rejoined Alexander in Denver (later Colorado Springs). Al mastered new federal "aircraft certification" regulations, ushering new designs through the Washington bureaucracy. He helped Alexander put two more designs into production. By age 21, he was on his fourth certified airplane design.
The last, his "M-4" was the Alexander Bullet, a radial-powered 4-seater, with retractable landing gear and a clean "cantilever" (un-braced) low-wing – quite an advance for its time. Able to squeeze 120 mph out of 165 horsepower, it won every race it entered, until a new racing division was created exclusively for it.
In 1929, Al left Alexander to attempt starting a company of his own in Wichita, Kansas, the "Air Capital City" – already home to Swallow, Cessna, Stearman and 1929's largest civilian plane maker, Walter Beech's Travel Air. Mooney opened shop in the old Burton Car Works (now the factory of his backer, Bridgeport Machine Co.) – the same plant where Clyde Cessna built Wichita's first plane and Lloyd Stearman began his Wichita company.
Young Al delighted in the company of other aviation greats, as he developed the Mooney A-1/A-2 (his "M-5") – an improved 5-seat version of the Bullet. Long hours at the factory were punctuated by tinkering with another design, a tiny one-seat monoplane dubbed "M-6," which he hoped would fly on only 36 horsepower. Only one did. Only a handful of the M-5 were built before the stock-market crash of 1929 ushered in the Great Depression, and the collapse of American industry, including aviation. Mooney was bankrupted, but Bridgeport's president graciously ate most of the losses. And lucky Al left Wichita with two treasures: a wife and child.
Al took a job in New Jersey as chief engineer of commercial production for Bellanca, working under a man he called "The Master" – Giuseppe Bellanca – the godfather of 1920's aerodynamics and wooden wings. With Washington experience, Al ushered Bellanca changes through certification – particularly variations of Bellanca's stout, heavy-hauling single-engined Airbus, including a military version, the C-27 (Al's "M-7"). When the government outlawed single-engine airliners in 1934, Bellanca lost out to competing twins and tri-motors. Al moved on to St.Louis' Monocoupe-Lambert, replacing chief engineer Don Luscombe who had left to start his own company. At Monocoupe, Al created the "first light twin" – the Twin Monocoach (his "M-8"). However, it was weakened with Lambert's 90-horse engines.
Another Monocoupe design had more promise – Al's "M-9,"the Monosport G, derived from his little 36-horse Wichita "M-6" idea. When Monocoupe-Lambert succumbed to the Depression, Monocoupe's Cleveland dealer, wealthy Knight Culver, bought the cheap, efficient Monosport design, opened a factory at Columbus, Ohio, and hired Al to convert it into the tiny Dart G sport monoplane. The lively Dart, fully aerobatic, with seating for two and retractable gear, galloped up to 120mph behind a 90-horse radial.
Demand grew, Culver renamed the company (for himself) in 1940, and Mooney redesigned the plane -- using all-wood construction, because approaching World War II led to a military confiscation of most metal, diverted to weaponry. The result was the Culver Cadet – the first popular retractable-geared light airplane. Over 350 sold. With growing demand, the factory was outgrown. Wichita aviation investor Charles "Pappy" Yankey (Beechcraft financier) invited Culver and Mooney to move to Wichita, and set up shop in Mooney's old plant, with Yankey's backing. The resulting Culver Aircraft Co. would quickly gain a surprising new customer for thousands of its lively little wooden wonders.…
For the REST of the story,
pick up a FREE copy of In Flight USA
at your favorite FBO, service center, aviation dealer, pilot's shop or flight lounge... TODAY!
---