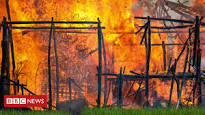 ABOVE: Across Myanmar's Rakhine state, thousands of Rohingya homes, across hundreds of villages, have gone up in flames... sometimes with men, women and children trapped inside by attackers. © 2017 BBC
BELOW: Rohingya refugees walk on a muddy path as others travel on a boat after crossing the Bangladesh-Myanmar (Burma) border, in Teknaf, Bangladesh, September 6, 2017. © 2017 Reuters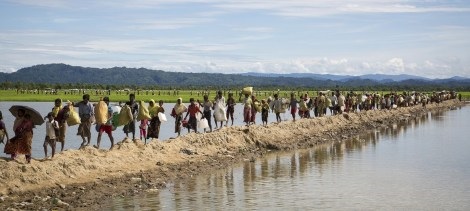 ---
Rohingya Crisis News
OVERVIEW
(UPDATED INTERMITTENTLY)
---
(also see:
Current Affairs Summary )
---
Compiled by Richard Harris

---
ON THIS PAGE:
---
KEY FACTS & NAMES:

The names Myanmar (official)
and Burma (traditional)
refer to the same country.

Rakhine State is Myanmar's coastal province where most of the violence has happened.
Rohingya Muslims were the majority there (particularly around the coastal district of Maungdaw Township), until this crisis.

Myamar's military, the Tatmadaw, working with local Rakhines (a large Buddhist minority), attacked the Rohingya -- in 2012-2013, 2015, 2016-2017, and most brutally in 2017-2018 -- killing, torturing, wounding or raping tens of thousands of them -- ultimately driving most of the Rohingya out of Rakhine State into the neighboring country of Bangladesh.
---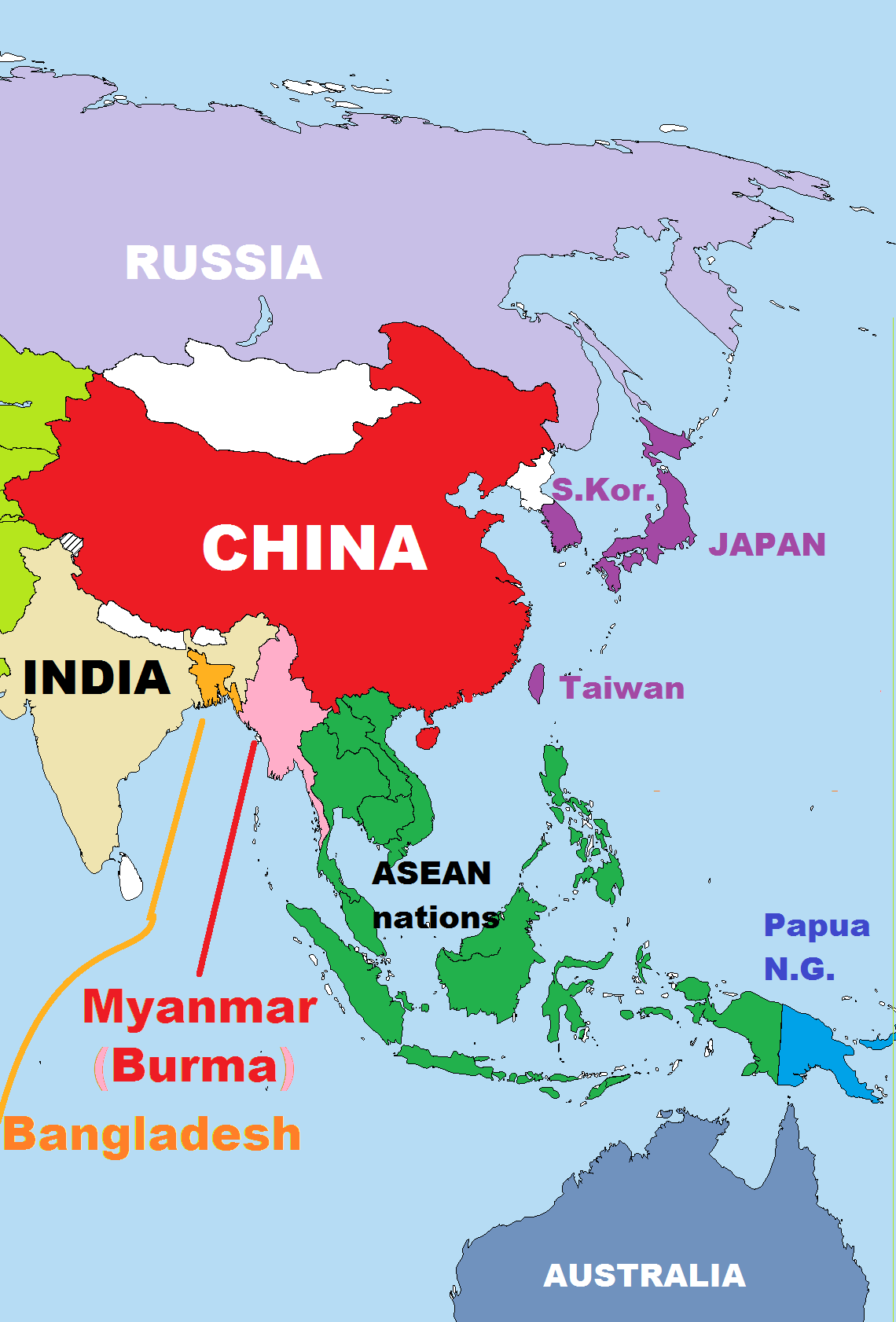 CURRENT CRISIS OVERVIEW
The recent Crisis has resulted from attacks in late-July / early-August 2017 by the Myanmar (Burma) military, aided by local Rakhine Buddhist militants, against an unpopular minority in mostly-Buddhist Myanmar: Rohingya civilians (mostly Muslim) are the majority of the people living in Myanmar's northern Rakhine state, on the Bay of Bengal -- an area whose land is currently being sought by China and India, in partnership with the Myanmar government, for commercial development projects (particularly major strategic seaports).
The government-led attacks on the Rohingya have involved arbitrary arrests, torture, rape and killing of thousands of Rohingya, while burning their villages -- forcing survivors into concentration camps, or driving them out of the country. Since August, most of Myanmar's Rohingya population have been driven into neighborhing Bangladesh (over 650,000 by December) in what the UN and the United States have called "ethnic cleansing," and through what others are calling "acts of genocide."
Rohingya refugees, escaping by boat, watch their villages burn, © 2017 SCMP . tv
---
---
ABOVE, LEFT: Gray splotches are ashen remains of burned Rohingya homes. ABOVE, RIGHT: The entire area has been bulldozed, leaving no trace of what happened there. Satellite photos released by Human Rights Watch, 2017.
---
---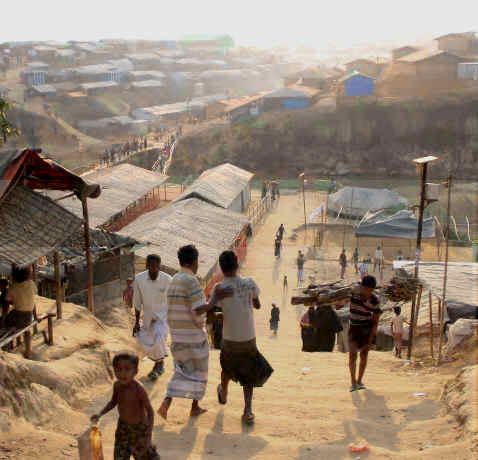 A small section of the world's largest refugee camp, at Kutupalong, Bangladesh. © 2018 The Guardian (UK)
---
Though Myanmar's military (and its weak civilian government, headed by Aung San Suu Kyi) denies any wrongdoing, they are refusing to allow independent observers any free access to the area, and have expelled the UN human rights investigator.
When Reuters reporters uncovered evidence of atrocities and mass graves in late 2017, they were arrested, and -- though Myanmar authorities assured they would deal properly with the evidence -- satellite photos revealed, in early 2018, that Myanmar was bulldozing burnt Rohingya villages, erasing any evidence of the atrocities there.
China and Russia are protecting Myanmar from UN action -- while India, Europe, the United States, and the rest of the world are doing nothing effective about it.
Most of Myanmar's Rohingya are now crowded into vast refugee camps in Bangladesh, which is struggling to cope. The Bangladesh government plans to force the Rohingya refugees onto a frequently-flooded island, or back to the place they are fleeing.
(For a more detailed summary
of the current situation, see:
Current Affairs Summary )
---
ABOUT THE
ROHINGYA CRISIS NEWS
Rohingya Crisis News is a list of articles (with links to them, and sometimes with excerpts from them) about the world's leading ethnic-cleansing humanitarian crisis -- the violent military purge of Rohngya Muslims from their ancestral homeland in the coastal region of Myanmar (Burma), in Southeast Asia.
After decades of discrimination, segregation, deprivation and abuse of the Rohingya Muslims in mostly-Buddhist Myanmar, starting in August 2017, a violent military crackdown has driven most of the estimated one-million Rohingya out of their homes, and their country -- tens of thousands of them (men, women, and children) murdered, wounded, raped, many even burned alive -- and forced to flee into neighboring Bangladesh, fleeing as their homes and villages were torched.
Officials of the United Nations, U.S. State Department and other nations -- supported by the assessments of the world's leading human-rights organizations -- have described the events as "ethnic cleansing" with "hallmarks of genocide" and "crimes against humanity"
Except for the Syrian Civil War, the Rohingya Crisis is the largest refugee exodus in this decade -- and one of the largest humanitarian disasters in the 21st century.
Rohingya Crisis News attempts to provide the public convenient access to the most reputable media, governmental and organizational reporting on the crisis -- and attempts to ensure that a very wide range of geographic and political perspectives are provided -- particularly through the reporting of the world's four principal news-reporting organizations:
AP (Associated Press)
Reuters
AFP (Agence France-Presse)
BBC (British Broadcasting Corp.)
...and many other leading English-language major media -- including the leading newspapers and broadcast network news organizations -- from across the U.S. and over a dozen other nations, particularly in the conflict region.

Major official and international organization sources have also been cited, also -- including the United Nations, U.S. State Department, and leading global humanitarian and human-rights organizations.

For more information on sources used in R.C.N., see:
• News Sources
---
ABOUT THE EDITOR:
Rohingya Crisis News is compiled and edited by Richard Harris, a former journalist and award-winning international affairs scholar. Harris has no connection -- personal or economic -- to any of the key parties to the Crisis, nor any affiliation by nationality, national origin, politics, ethnicity, religion or any other affiliation. He is a former civil rights activist, and encourages global knowledge about major international issues.

---
CONTACT Rohingya Crisis News:
You may send comments, concerns, suggestions and inquiries to: rh1@ksip.net
---
---
Also see:
---
---
---