ABOVE: Torched Rohingya homes burn.
© 2017 Australian Broadcating Corp.
BELOW: Rohingya refugees walk on a muddy path as others travel on a boat after crossing the Bangladesh-Myanmar (Burma) border, in Teknaf, Bangladesh, September 6, 2017. © 2017 Reuters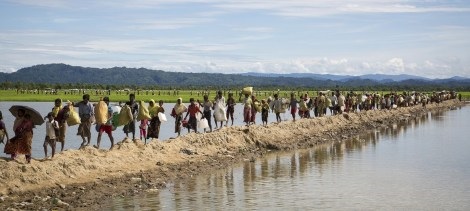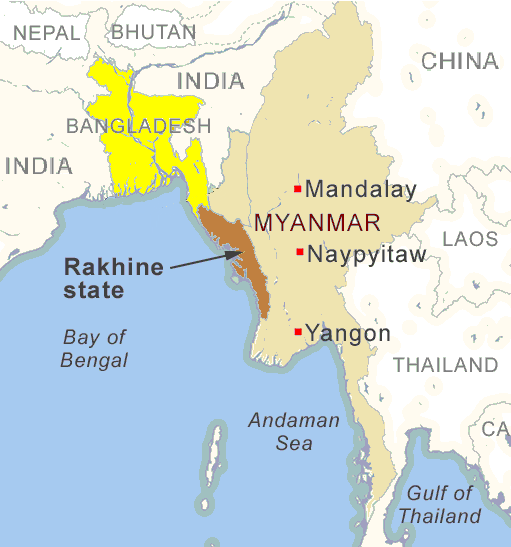 LATE-2017
(CURRENT CRISIS ERUPTS)
Major Media Reports

---
---
---
---
---
CURRENT EVENTS:
---
AUGUST 2017:
---
SEPTEMBER 2017:
2017 Sept. 1 - Friday

400 killed, army says,
amid 'massacre' of Rohingya Muslims.
Latest violence follows an attack by Rohingya insurgents on police posts in the remote Rakhine region.
- The Independent (U.K.)

Myanmar military statement on Facebook said:

Almost 400 people have died in clashes between security forces and Rohingya Muslims in Burma, according to the country's military commander.
all but 29 of the 399 dead were insurgents, whom the statement described as "terrorists."
there have been 90 armed clashes (including an initial 30 attacks by insurgents on 25 August).

This indicates the combat is more extensive than previously announced.
This would be a sharp increase on the previously reported death toll of just over 100.
Advocates for the Rohingya, an oppressed Muslim minority in overwhelmingly Buddhist Burma, say:

Hundreds of Rohingya civilians have been killed by security forces.

Director of the [pro-Rohingya] Arakan Project pressure group, to ABC:

"So far reports—I think quite credible—mention about 130 people, including women and children, killed."
Sunday... suddenly security forces cordoned [off] the whole area, together with Rakhine villagers. It seems like this has been a major massacre in Rathedaung.

One refugee reported that...

He fled his village August 25, after it was attacked by Burmese security forces.
The security forces shot at the villagers -- kllling 5 in front of his house.
Troops also used rocket-propelled grenades, and helicopters fired some sort of incendiary device.

United Nations reports:

About 38,000 [Rohingya] have fled into neighbouring Bangladesh.

Thousands could be seen on Friday, making their way across muddy rice fields.
Bangladesh border guards have tried to keep out the fleeing Rohingya.
Burma's government...:

repeatedly denied claims that Rohingya are facing genocide.
previously brushed away evidence of human rights violations as fake news and "propaganda".
says: the "terrorist" attacks were "a calculated attempt to undermine the efforts of those seeking to build peace and harmony in Rakhine state" ~Burma's top civilian leader, Aung San Suu Kyi.
refuses to recognize Rohingya as a legitimate native ethnic minority, leaving them without citizenship and basic rights.

2017 Sept. 2 - Saturday
2017 Sept. 4 - Monday
2017 Sept. 5 - Tuesday
2017 Sept. 6 - Wednesday
2017 Sept. 7 - Thursday
2017 Sept. 8 - Friday
2017 Sept. 9 - Saturday
2017 Sept. 10/11 - Sunday/Monday
2017 Sept. 12 - Tuesday
2017 Sept. 13 - Wednesday
2017 Sept. 14 - Thursday
2017 Sept. 15 - Friday
2017 Sept. 16 - Saturday
2017 Sept. 17 - Sunday
2017 Sept. 18 - Monday
2017 Sept. 19 - Tuesday
2017 Sept. 20 - Wednesday
2017 Sept. 21 - Thursday
2017 Sept. 22 - Friday
2017 Sept. 23 - Saturday
'Safe Zones' for Rohingya Refugees in Burma
Could Be Dangerous

"Deadly Experiences in Bosnia and Sri Lanka Should Serve as Warning"
* * *
"Given the Burmese military's brutal and unrelenting campaign against the Rohingya, no one should be under any illusion that it will allow a 'safe zone' to actually be safe."

- Human Rights Watch
(by Richard Weir, HRW Fellow, Asia Division)

Stateless Rohingya pushed from Myanmar,
but unwanted by Bangladesh.
- Australian Broadcasting Corp.

ANALYSIS:
A war over words is central
to the Rohingya crisis.
Buddhist-majority Myanmar sees the name Rohingya as a fabrication by Muslim foreigners

- CBC News (Canada)
Despite the presence of Rohingya for generations, Myanmar's policies towards them have long been driven by that belief: that they are foreign, illegal migrants of Bengali origin.
Rohingya is not recognized as an ethnicity, and the people have no citizenship rights. So they do not enjoy freedom of movement or education. They cannot vote. And they are indiscriminately targeted in operations against militants. ...
2017 Sept. 24 - Sunday
2017 Sept. 25 - Monday
2017 Sept. 26 - Tuesday
2017 Sept. 27 - Wednesday
Donald Trump plans to slash US refugee admissions.

Trump has until Sunday to decide how many refugees to admit in the 2018 fiscal year (which starts Sunday).
Trump administration will allow no more than 45,000 refugees into the U.S.A. next year, say officials... and may not even admit that many (about one-eighth of one-tenth of 1% of U.S. population).
Fewest refugee admissions since 2006, when 41,223 were allowed.
84,995 refugees admitted in fiscal year 2016,
Obama wanted to raise that to 110,000 in 2017 (one-half of 1% of world refugees).
Worldwide, there are about 22,500,000 refugees; and many more people internally displaced within their home countries. [says] UN High Commissioner for Refugees,
Aid groups and governments strongly prefer to seek conditions so refugees can return home, rather than permanently resettling them in host countries.

- The Economic Times / Times of India
2017 Sept. 28 - Thursday
Myanmar says poised to take back
'verified' Rohingya refugees

But it is unclear how many Rohingya (who numbered around one million in Myanmar before Aug.25), will be eligible for return to a country that does not recognise them as citizens.
While fleeing for their lives, some lost the required papers, or never had a chance to get them.
Many others are unwilling to move back to charred villages and communities cut by communal hate in Rakhine.

- Channel NewsAsia (Singapore)
(info)
- Associated Press / Fox News
Is Rohingya crisis changing
West's 'romanticized' view of Buddhism?
- Christian Science Monitor
2017 Sept. 29 - Friday
2017 Sept. 30 - Saturday
---
OCTOBER 2017:
2017 Oct. 1/2 - Sunday/Monday
2017 Oct. 3 - Tuesday

India's Rohingya refugee community
fights deportation threat

More than 40,000 Rohingya refugees living in India face the threat of deportation.
On Tuesday, India's supreme court will consider a case brought against the deportation.
Refugee: "I thought we can't go there (Myanmar) they will kill us. What can I do?"
India's government claims secret evidence "indicating linkages of some of the unauthorized Rohingya immigrants with Pakistan-based terror organizations" and "that many of the Rohingyas figure in the suspected sinister designs of ISI/ISIS and other extremist group."
India's government notes that it did not sign UN Convention Relating to the Status of Refugees, nor the Protocol Relating to the Status of Refugees.
Rohingyas' lawyer notes that India signed the UN's Universal Declaration of Human Rights, with its rule that refugees to be protected from violence in their home country.
Rohingyas' lawyer blames current administration's populist anti-Muslim stance for its Rohingya deportation plans.

- Cable News Network (CNN)

'The violence must stop'
Diplomats see only devastation
in Rohingya villages

Australian ambassador to Myanmar Nicholas Coppel and 19 other diplomats took brief government-sponsored tour of parts of strife-torn Rakhine state.
After what they saw, the diplomats described the humanitarian situation in Rakhine as "dire" .
The diplomats condemned the Royhingya Muslim militants' attack, but declined to condemn atrocities committed against the Rohingya Muslim ethnic minority by the country's security forces and vigilante Buddhist mobs.

- Sydney Morning News (Australia)

2017 Oct. 4 - Wednesday
2017 Oct. 5 - Thursday
2017 Oct. 6 - Friday
2017 Oct. 7 - Saturday

Bangladesh Prime Minister says government
will continue to help Rohingya
- Associated Press / Fox News

Video: Footage shows bodies and burning in Myanmar's 'ethnic cleansing' of Rohingya Muslims. ©2017 ABC News, Australia. To view video, CLICK HERE.

Myanmar: Video shows bodies and burning villages, as army 'continues campaign' against Rohingya Muslims

"Since September 5, there have been no armed clashes and there have been no clearance operations," ~ Burmese leader Aung San Suu Kyi
"We have proof, evidence that the attacks [are] still going on after September 5 and people still move out from Rakhine," ~ Puttanee Kangkun
Separate video footage sent to the ABC allegedly shows security forces and vigilantes burning Muslim homes in the town of Maungdaw as recently as Thursday night
Satellite images have shown the systemic torching of at least 200 Muslim villages across Rakhine State.
The Arakan Rohingya Salvation Army (ARSA) --[Rohingya Muslim rebel group]:

Is believed to be overseen and financed from Saudi Arabia.
In Myanmar, leader is Ata Ullah, who probably received training from extremist Islamic groups -- but has publicly rejected support from international terrorist groups such as Al Qaeda.
Announced itself in October last year with an attack on police posts.
After the attack that sparked one of the worst ever crises for Rohingya people -- [the "ethnic cleansing" campaign by Burmese security forces and Buddhist mobs] -- ARSA declared a unilateral ceasefire.
That ceasefire ends October 10.

- Australian Broadcasting Corp.

2017 Oct. 8 - Sunday
2017 Oct. 9 - Monday
2017 Oct. 10 - Tuesday

More than 11,000 Rohingya flee Myanmar,
to Bangladesh, in one day;
- UNHCR on 'full alert'

More than half a million Rohingya have fled Myanmar since August 25.
But the rate slowed to about 2,000 refugees per day last week.
"We are back up to approaching some of those peak arrivals... we have to be prepared." ~ UN High Commissioner for Refugees (UNHCR) spokesman
"We don't know at the moment what is driving this."
"Clear and present risk" of the spread of cholera; mass emergency vaccinations.

- Australian Broadcating Corp.
(more at: BBC News )

Pope enters Rohingya political minefield with Myanmar-Bangladesh trip (Nov.26 - Dec.2)

Trip motto: "Peace, harmony & love among people of different faiths."
Pope has already repeatedly denounced the "persecution of our Rohingya brothers."
But itinerary lists no papal meeting with Rohingya in either country.
Vatican itinerary for the trip:

Nov.28: in Myanmar: Will addresses Myanmar's top civilian leader, Aung San Suu Kyi, gov't officials & Myanmar's diplomatic corps. (Suu Kyi has not defended the Rohingya, and Myanmar's Catholic cardinal, has defended her.)
Nov. 29: Will meet with Myanmar Buddhist monks' Sangha supeme council -- key influential institution in majority-Buddhist Myanmar (they're silent, so far, over Myanmar's hostility to the Rohingya).
Celebrates Mass for tiny Catholic community in Myanmar.
Dec.1: in Bangladesh, will discuss interfaith relations with leaders from other religions.

Bangladesh has intense history of political & religious violence, with political assasinations & executions, 19 coup attempts -- and recent attacks by extremist Muslims against atheists, homosexuals, other religions, and foreign aid workers.

- Associated Press / ABC News

On Rakhine beach, fleeing Rohingya
live out perilous existence -

On the beach:

For 2 weeks, 2,000 Rohingya stranded in the open on beach in Rakhine state, Myanmar -- in harsh weather -- fearing for their lives.
"Food and medicine are difficult to find"... "There's no water here... Babies and old people … they are starving."
Security forces on both Bangladesh and Myanmar sides of the bay have stopped boats coming from Bangladesh to ferry them across to safety.

Promises...

After Aung San Suu Kyi promised her government would allow foreign media and government representatives to visit the conflict area, ambassadors from China, India, Bangladesh, Thailand and Laos were taken by helicopter to Maungdaw, today.
Suu Kyi said "verified" Myanmar people could return -- if they deny they're Rohingya, and can prove they're from Myanmar; but most fled without their documents, or have other issues.
Bangladesh & Myanmar agree to Rohingya's return according to 1992 agreement -- but not clear if many can or will return.

- Channel NewsAsia (Singapore)

2017 Oct. 11 - Wednesday

UN report details brutal Myanmar effort
to drive out half a million Rohingya


UN Human Rights Office report -- based on 65 interviews with Rohingya who have arrived in Bangladesh in the past month:
Says Myanmar military's "clearance operations" -- including killings, torture and rape of children -- had begun before ARSA's insurgent attacks on police posts on 25 August.
Campaign was "well-organised, coordinated and systematic".
Campaign began with Rohingya men under 40 being arrested a month earlier.
Myanmar security forces documented as "firing indiscriminately at Rohingya villagers, injuring and killing other innocent victims, setting houses on fire."
"Almost all testimonies [say] people were shot at close range, and in the back, while they tried to flee in panic."
"Highly likely" that Myanmar security forces planted landmines on the border -- doctors treated such injuries.
Myanmar security forces purposely destroyed the property of the Rohingyas, scorched their dwellings and entire villages in northern Rakhine State -- not only to drive the population out in droves, but also to prevent the fleeing Rohingya victims from returning to their homes.
Destruction by security forces -- often joined by mobs of armed Rakhine Buddhists -- of houses, fields, food stocks, crops, and livestock made the possibility of Rohingya returning to normal lives in northern Rakhine "almost impossible."
"If villages have been completely destroyed and livelihood possibilities have been destroyed, what we fear is that they may be incarcerated or detained in camps" ~ head of the Asia & Pacific region, UN human rights office.
Army's ethnic cleansing campaign "a cynical ploy to forcibly transfer large numbers of people without possibility of return." ~ U.N. High Commissioner for Refugees
"We are not in a position to make a finding of genocide or not, but this should in no way detract from the seriousness of the situation."~ Team Leader, UN Expedition to Cox's Bazaar, Bangladesh, 14-24 Sept.
The military campaign is popular in Buddhist-majority Myanmar, whose other people have little sympathy for the Rohingya, nor for Muslims, generally -- with Buddhist nationalism surging.
"Clearly, some level of eviction, displacement, forced movement and violence may be continuing." ~ head of the Asia & Pacific region, UN human rights office.


- Reuters (at the U.N.) / The Guardian (U.K.)
(more at:
- Official U.N. News Release
- U.N. news app )


Rohingya Recount Atrocities:
'They Threw My Baby Into a Fire'
- New York Times

AP PHOTOS:
A Rohingya boy's struggle
to reach Bangladesh

Village raided, burned, two weeks ago.
Father shot dead as family flees.
Mother, the boy, and 3 younger children escape.
Boy, age 7, carries baby sister six days -- barefoot.
Most Rohingya refugees are children.

- Associated Press / ABC News

Myanmar ruling party holds harmony rally
as Rohingya flee

In Yangon soccer stadium, 20,000 lit candles and said prayers.
A Muslim religious leader spoke to the crowd from a podium.
Video: Buddhist monks and men in Muslim skullcaps -- sitting apart.
Meanwhile, thousands of Rohingya Muslims continue fleeing persecution in northern Rakhine state.

- Associated Press / Fox News

Myanmar Rohingya:
UN recalls top official Lok-Dessallien

Renata Lok-Dessallien was the focus of a BBC investigation last month in which she was accused of suppressing internal discussion on Rohingya Muslims
Sources in the UN and aid community told the BBC she had also tried to stop human rights officials from visiting areas where the army allegedly persecuted the Rohingya minority.
UN defended Ms Dessallien's handling of the Rohingya issue, and said her departure was part of a succession process.
Her replacement not yet identified.

- BBC

Hands Tied by Old Hope,
Diplomats in Myanmar Stay Silent.
- New York Times

Adjusting to New Lives, Chicago's Rohingya
Look to Aid Those Still in Myanmar
- NBC News (same topic at: New York Times )
2017 Oct. 12 - Thursday
2017 Oct. 13 - Friday
2017 Oct. 14 - Saturday
2017 Oct. 15 - Sunday
2017 Oct. 16 - Monday - The Guardian (U.K.)
Doctors treating Myanmar's sick Rohingya children
call for international support
Medical staff treating child refugees with serious illnesses in Bangladesh say they do not have enough beds to treat them.
- Sky News (U.K.)
Thousands of new Rohingya refugees
flee violence, hunger in
Myanmar to Bangladesh
- The Indian Express (India)
For Half A Million Rohingya Fleeing Myanmar,
Bangladesh Is A Reluctant Host
- National Public Radio (NPR)
Rohingya crisis:
India must take more initiatives,
says Bangladesh
"The Rohingya issue is a major security concern in the region... It is a fire in our neighbourhood and before it engulfs all of us, we must put it out" ~ Bangladesh High Commissioner to India, Ali.
Ali referred to the 5-point plan presented by Bangladesh Prime Minister Sheikh Hasina in the UN General Assembly last month:

Myanmar must unconditionally stop the violence and the practice of ethnic cleansing in Rakhine state immediately and forever;
The UN Secretary General should immediately send a fact-finding mission to Myanmar;
All civilians irrespective of religion and ethnicity must be protected in Myanmar and for that safe zones can be created inside Myanmar under UN supervision;
Ensure sustainable return of all forcibly displaced Rohingyas in Bangladesh to their homes in Myanmar; and
The recommendations of the Kofi Annan Commission should be immediately implemented unconditionally.
- Hindustan Times (India)

'China, India can help solve Rohingya crisis'
- Chinese daily
- The Economic Times (India)

NHRC removes senior advocate Rajeev Dhavan
as counsel in Rohingya case
- The Economic Times (India)
2017 Oct. 17 - Tuesday - The Guardian (U.K.)
2017 Oct. 18 - Wednesday
Myanmar: Crimes against humanity
terrorize and drive Rohingya out.

Amnesty International, today, in its most detailed analysis yet of the ongoing crisis:
Myanmar's security forces are carrying out a systematic, organized and ruthless campaign of violence against the Rohingya population as a whole in northern Rakhine State, after a Rohingya armed group attacked around 30 security posts on 25 August.
Tirana Hassan, Crisis Response Director at Amnesty International:

"In this orchestrated campaign, Myanmar's security forces have brutally meted out revenge on the entire Rohingya population of northern Rakhine State, in an apparent attempt to permanently drive them out of the country.
These atrocities continue to fuel the region's worst refugee crisis in decades."

More than 530,000 Rohingya men, women and children have fled northern Rakhine State, in terror, in a matter of weeks -- amid the Myanmar security forces' targeted campaign of widespread and systematic murder, rape and burning,
Dozens of eyewitnesses to the worst violence consistently implicated specific units, including:

the Myanmar Army's Western Command,
the 33rd Light Infantry Division, and
the Border Guard Police.

Witness accounts, satellite imagery and data, and photo and video evidence gathered by Amnesty International all point to the same conclusion:

Hundreds of thousands of Rohingya women, men, and children have been the victims of a widespread and systematic attack , amounting to crimes against humanity.

The Rome Statute of the International Criminal Court lists 11 types of acts which, when knowingly committed during such an attack, constitute crimes against humanity. Amnesty International has consistently documented at least six of these amid the current wave of violence in northern Rakhine State:

murder [including by shooting, beating, and burning -- of hundreds of men, women & children],
deportation and forcible displacement,
torture,
rape and other sexual violence [against hundreds -- including against children],
persecution, and
other inhumane acts (such as denying food and other life-saving provisions).

AI's conclusion is based on:

testimonies from more than 120 Rohingya men and women who have fled to Bangladesh in recent weeks;
30 interviews with medical professionals, aid workers, journalists and Bangladeshi officials;
AI's experts corroborating many witness accounts by analysing:

satellite imagery and data; and
verifying photographs and video footage taken inside Rakhine State.

- Amnesty International official press release

[U.S. Secretary of State] Tillerson
says military leaders in Myanmar
are accountable for Rohingya crisis.

U.S. ambassador to Myanmar has met with the Commander in Chief of the Myanmar Armed Forces.
U.S. ambassador to the U.N. has met with Myanmar's national security adviser.
Secretary Tillerson today:

The U.S. is "extraordinarily concerned" about the situation... a gross abuse of human rights.
"If these reports are true, someone is going to be held to account for that."
"...the world can't just stand idly by and be witness to the atrocities that are being reported in the area."
"...we've [said] the military [must] be disciplined about how you deal with [rebel terrorists], and you must be restrained in how you deal with those."

Secretary Tillerson in September:

"Nobody wants to see a return of the generals [to complete rule of Myanmar]."
It is vital for Aung San Suu Kyi, the country's civilian leader, "to make clear that this is an abomination and that those [refugees] will be allowed back to Burma, ...and that the abuse of their human rights and... the killings will stop."

- CBS News

CBC Investigates:
Some sources accuse officials
of not taking risks seriously enough.

Did the UN ignore warnings of ethnic cleansing of Rohingya in Myanmar?

- Candian Broadcasting Corp. (CBC)
Long before the violence this summer that left Hedayet Ullah deeply traumatized and sheltering in a Bangladesh refugee camp, he and his family lived an unspeakable life in Myanmar's Northern Rakhine state. The discrimination and abuse they and other Muslim Rohingya endured has been well-documented by advocates and UN human rights officials, many of whom have warned that their treatment could amount to crimes against humanity and ethnic cleansing.
But -- according to internal documents, and multiple sources consulted by CBC News -- there are signs several UN figures and other international actors — including a key Canadian official [(Renata Lok-Dessallien)] — have long been reticent to pressure Myanmar on the rights of the Rohingya. ...
2017 Oct. 19 - Thursday
[paraphrased:]
Just a few weeks after it was revealed that the United Nations office in Myanmar had withheld a report that warned of the impending Rohingya Crisis, it has been discoverered that yet another U.N. report -- this one from the World Food Program -- was withheld, despite its warning that Rohingya in Myanmar face mass starvation, including 80,000 children "wasting" away.
It appears that the WFP did not want to antagonize the Myanmar government by revealing the situtation, and aceded to Myanmar's request that the report be suppressed, pending a revision to its liking.
Why would the WFP do such a thing? It appears that they may have wanted to keep secret the fact that food aid to the Rohingya had been cut, a revelation that could have risked millions of dollars of funding flowing to WFP...
Myanmar, Once a Hope for Democracy,
Is Now a Study in How It Fails.
- New York Times
Rohingya Expatriates
Push US Lawmakers to Act on Myanmar
- VOA- Voice of America
(official U.S. propaganda radio)
Life in Limbo:
The half-million Rohingya refugees in Bangladesh
will not leave soon.
- The Economist (U.K.)
---
More than 300,000 Rohingya refugee children
'outcast and desperate', UNICEF says
One in 5 Rohingya refugee children under the age of five is estimated to be acutely malnourished, requiring medical attention.
Up to 12,000 more children join them every week, fleeing violence or hunger in Myanmar -- often still traumatized by atrocities they witnessed.
"We repeat the call for the need for protection of all children in Rakhine state, this is an absolute fundamental requirement. The atrocities against children and civilians must end."
"We just must keep putting it on the record, we cannot keep silent."

- Reuters News Service / The Guardian (U.K.)

---
2017 Oct. 20 - Friday
2017 Oct. 21 - Saturday
2017 Oct. 22 - Sunday
2017 Oct. 23 - Monday
2017 Oct. 24 - Tuesday
2017 Oct. 25 - Wednesday
2017 Oct. 26 - Thursday
2017 Oct. 27 - Friday
2017 Oct. 28 - Saturday
2017 Oct. 29 - Sunday
2017 Oct. 30 - Monday
2017 Oct. 31 - Tuesday
---
NOVEMBER 2017:
2017 Nov. 1 - Wednesday
2017 Nov. 2 - Thursday
2017 Nov. 3 - Friday
2017 Nov. 4 - Saturday
2017 Nov. 5 - Sunday
2017 Nov. 6 - Monday

Security Council Presidential Statement
Calls on Myanmar to End
Excessive Military Force,
Intercommunal Violence
in Rakhine State
(summary report & full text of Presidential statement)


Expressed "grave concern over reports of human rights violations and abuses in Rakhine State, including by the Myanmar security forces, in particular against... the Rohingya... including...

"systematic use of force and intimidation,
"killing of men, women, and children,
"sexual violence, and...
"destruction and burning of homes and property."

Called on Myanmar government "to...

"ensure no further excessive use of military force in Rakhine state;"
"restore civilian administration;" and
"apply the rule of law."

Called for full access to Rakhine for humanitarian aid workers.
Called for full and secure access to Rakhine, and the rest of Myanmar, for the media.
Called on Myanmar government to "address the root causes of the crisis, [by...

supporting] "human rights, without without discrimination... regardless of ethnicity or religion,
"allowing freedom of movement,
"equal access to basic services, and
"equal access to full citizenship for all."
Stressed "importance of... transparent investigations into... human rights abuses and violations, including sexual violence and abuse and violence against children, and... holding to account all those responsible..."
Statement did not threaten sanctions.
Calls on Myanmar to cooperate with the UN.
Encourages UN Secretary-General to appoint a special advisor on the crisis.
UN Secretary-General to report on Myanmar's compliance in 30 days.
Myanmar protests that the UN statement...
is based on false information,
"exerts undue political pressure on Myanmar," and
could exacerbate religious tensions.
- United Nations Security Council
...and related press accounts:
UN increases pressure on Myanmar
to end violence against Rohingya.
Council expresses 'grave concern'
over human rights violations
in statement watered-down by China.
- Agence France-Presse / The Guardian (U.K.)
Calgary (Canada) geophysicist works against time
to find water for Rohingya refugees
in Bangladesh
'A month from now, 2 months at the most,
they'll be completely dry,'
Paul Bauman says of existing reservoirs.
- Canadian Broadcasting Corp.
2017 Nov. 7 - Tuesday
2017 Nov. 8 - Wednesday
2017 Nov. 9 - Thursday
2017 Nov. 10 - Friday
2017 Nov. 11 - Saturday
2017 Nov. 12 - Sunday
Rohingya refugees tell of massacre:
Accounts of rape, burning children and murder.
How a Rohingya massacre unfolded at Tula Toli
- CNN

Myanmar troops systematically
gang-raped Rohingya women:
~UN envoy.
UN special representative on sexual violence in conflict, Pramila Patten, said:

Many of these atrocities "could be crimes against humanity."
"I heard horrific stories of rape and gang-rape, with many of the women and girls who died as a result."
"a pattern of widespread atrocities, including sexual violence against Rohingya women and girls... systematically targeted [because] of their ethnicity and religion"
The sexual violence... was "commanded, orchestrated and perpetrated by the armed forces of Myanmar," and included:

gang-rape by multiple soldiers
forced public nudity and humiliation
sexual slavery in military captivity

others involved included:

Myanmar border police
militias composed of Buddhists and other ethnic groups in Rakhine

"The widespread... sexual violence was clearly a driver... for forced displacement on a massive scale, and a calculated tool of terror aimed at the extermination and the removal of the Rohingya as a group."

- Agence France-Presse
/ Straits Times (Singapore)

Southeast Asia summit draft statement
skips over Rohingya crisis.
- Reuters News Service
(same topic at:
- Bangkok Post (Thailand) )
2017 Nov. 13 - Monday
2017 Nov. 14 - Tuesday
Rohingya abuses: Myanmar army report clears itself of blame

The assertions contradict evidence seen by BBC correspondents.
Amnesty International spokesman...

says the army's report was an attempted "whitewash";
called for UN fact-finders to be allowed in to the region;
said the Myanmar military had "made clear it has no intention of ensuring accountability";
declared "It's now up to the international community to step up to ensure these appalling abuses do not go unpunished."
- BBC News (same topic at:
- Amnesty International
and
- Human Rights Watch )
'When they began slaughtering us
we ran for our lives'
- Rohingya trapped inside Myanmar
- The Guardian (U.K.)
UN chief raises alarm over Rohingya
in speech before Suu Kyi
- Associated Press / Fox News
[Australian Prime Minister] Turnbull
raises Rohingya crisis with Suu Kyi
during private chat.
- AAP / SBS News (Australia)
Downing Street says Burma's treatment of Rohingya Muslims looks like 'ethnic cleansing'
- The Independent (U.K.)
[British Prime Minister] Theresa May
vows to tackle
'inhuman destruction of Rohingya people'
- SkyNews (U.K.)
Myanmar's Suu Kyi meets
[U.S. Secretary of State] Tillerson,
[and] U.N. chief,
on Rohingya crisis
- Channel NewsAsia (Singapore)
Rohingya repatriation after signing memorandum with Bangladesh -Suu Kyi
- Philippine Daily Inquirer
/ Asia News Network
in DailyStar (Bangladesh)
2017 Nov. 15 - Wednesday
2017 Nov. 16 - Thursday

SPECIAL NOTE: Thursday, November 16, 2017, three major documents became the subject of extensive news coverage. A fourth received some attention as well. These included:
Articles about them are titled in boldface, below, and they are extensively summarized, with links to major media reports and official documents.

2017 Nov. 17 - Friday
2017 Nov. 18 - Saturday
2017 Nov. 19 - Sunday
2017 Nov. 20 - Monday
2017 Nov. 21 - Tuesday
2017 Nov. 22 - Wednesday
2017 Nov. 23 - Thursday
Myanmar, Bangladesh sign deal
for potential return of
displaced Rohingya Muslims.
- Associated Press /
Canadian Broadcasting Corp.

Refugees in Bangladesh express doubts about deal.
Amnesty International calls returns 'unthinkable'; says:
"There can be no safe or dignified returns of Rohingya to Myanmar while a system of apartheid remains in the country, and thousands are held there in conditions that amount to concentration camps,"
The pact resembles 1992 repatriation agreement between the 2 nations (after a prior Rohingya exodus), requiring Rohingya to present residency documents (which few have), to be allowed back into Myanmar.
Myanmar announced agreement, but provided no details on how many Rohingya will be allowed to return home, nor how soon.
Bangladesh said repatriations are to begin within 2 months.


(same topic at:
- BBC

Myanmar's conditions of return remain unclear.
Many Rohingya are terrified of being sent back.
Some refugees... want guarantees of citizenship and their land returned.
Bangladesh wants to show its own people that the Rohingya won't be permanent residents.
Burma/Myanmar authorities -- especially civilian leader Suu Kyi -- are reacting to international pressure.
Amnesty International:

"It is completely premature to be talking about returns when hundreds of Rohingya continue to flee persecution and arrive in Bangladesh... almost daily."
"We're... concerned that the UN... have been completely sidelined from this process.
This does not bode well for ensuring a really robust voluntary repatriation agreement that meets international standards."

The Burmese army, last week:

Exonerated itself of blame [for] the Rohingya crisis.
Denied:

killing any Rohingya people,
burning their villages,
raping women and girls,
stealing possessions.

Their denial contradicts evidence seen by BBC correspondents.

and at:
- New York Times and at:
- The Guardian (U.K.)
- Reuters-AP / Australian Broadcasting Corp.
- Wall Street Journal )


Rohingya Refugees:
Myanmar's Crisis Is
Bangladesh's Burden.
- TIME Magazine (U.S.)

Push for contraception, even sterilisation,
as Bangladesh struggles with refugee influx
- Australian Broadcasting Corp.
2017 Nov. 24 - Friday
2017 Nov. 25 - Saturday
2017 Nov. 26 - Sunday
2017 Nov. 27 - Monday
NOTE: This day began Pope Francis' 3-day papal visit to Burma/Myanmar, to be followed by a visit to Bangladesh. The trip is the subject of several stories over the next several days:
2017 Nov. 28 - Tuesday
Rohingya refugees forced into sex work
The BBC's Reeta Chakrabarti uncovers evidence of teenage Rohingya girls being forced into sex work in Bangladesh.
- BBC
Aung San Suu Kyi stripped of
Freedom of Oxford award
over Rohingya crisis
- Channel NewsAsia (Singapore)
Opinion:
Why haven't Americans paid attention
to the Rohingya refugee crisis?
by Kristin Davis, Goodwill Ambassador, UNHCR.
- NBC News
2017 Nov. 29 - Wednesday
2017 Nov. 30 - Thursday
---
DECEMBER 2017:
2017 Dec. 1 - Friday
2017 Dec. 2 - Saturday
2017 Dec. 3 - Sunday
2017 Dec. 4 - Monday
2017 Dec. 5 - Tuesday
2017 Dec. 6 - Wednesday
2017 Dec. 7 - Thursday

-------------------------

2017 Dec. 8 - Friday

U.N. Warns Against
Any Hasty Returns of Rohingya
to Myanmar.
- Reuters / U.S. News & World Report
(also at:
- SBS News (Australia) )

The United Nations refugee agency (UNHCR) says under international standards on voluntary repatriation, that peace and stability must be restored in Myanmar's northern Rakhine state before any Rohingyas can return from Bangladesh,
"It is critical that the returns are not rushed or premature... People can't be moving back in into conditions in Rakhine state that simply aren't sustainable." ~ UNHCR spokesman at Geneva briefing.
UNHCR & International Organization of Migration (IOM) say:

20,000 Rohingya fled Myanmar to Bangladesh in November, at least 270 so far in December.
646,000 people total have fled to Bangladesh, since violence erupted on August 25.

Rohingya widows find safe haven
in Bangladesh camp
- Hindustan Times (India)

2017 Dec. 9 - Saturday

Diphtheria Comes Back To Haunt Yemen And Rohingya Refugees In Bangladesh
- NPR (National Public Radio)

Aid groups vow to boycott
new Myanmar camps
for Rohingya returnees
- Agence France-Presse /
Channel NewsAsia (Singapore)

More than a dozen humanitarian organizations, (including Save the Children and Oxfam), protest the idea of returning Rohingya refugees being forced into "temporary" camps in Myanmar.
Aid groups say:

"There should be no form of closed camps or camp-like settlements. INGOs [international non-governmental organizations] will not operate in such camps if they are created,"
Returning refugees must be allowed to settle in their original homes.
All refugee returns must be voluntary.

2017 Dec. 10 - Sunday
2017 Dec. 11 - Monday
2017 Dec. 12 - Tuesday
2017 Dec. 13 - Wednesday

UN official urges accountability
for Rohingya 'ethnic cleansing'
UN Security Council meets to discuss ongoing crisis
- Nikkei Asian Review

MSF estimates more than 6,700 Rohingya killed
in Myanmar

At least 6,700 Rohingya were killed in the month after violence broke out in Myanmar in August, Medecins Sans Frontieres (MSF) says.
Based on surveys of refugees in Bangladesh, the number is much higher than Myanmar's official figure of 400.
MSF said it was "the clearest indication yet of the widespread violence" by Myanmar authorities.
The survey found that at least 9,000 Rohingya died in Myanmar (also known as Burma) between 25 August and 24 September.
"In the most conservative estimations" at least 6,700 of those deaths have been caused by violence, including at least 730 children under the age of five,
according to MSF.
This well-researched figure by MSF suggests the operation conducted by the military was brutal enough to raise the possibility of taking a case to the International Criminal Court (ICC) for crimes against humanity.
However, Myanmar has not ratified the Rome Statute of the ICC and is not bound to co-operate with it. Bringing a case would require the approval of all five permanent members of the UN Security Council, and China has until now given its full support to the Myanmar government's conduct.
"What we uncovered was staggering, both in terms of the numbers of people who reported a family member died as a result of violence, and the horrific ways in which they said they were killed or severely injured" ~ MSF Medical Director Sidney Wong.
According to MSF, the violence-related deaths were caused by...:

69% were from gunshots
9% were due to being burnt to death in their houses
5% were beaten to death.

Among the dead children below the age of five, MSF says:

over 59% were reportedly shot,
15% burnt to death,
7% beaten to death
2% killed by landmine blasts.

Previously, the armed forces stated that around 400 people had been killed, most of them described as Muslim terrorists.
The military conducted an "internal investigation" and cleared itself of all allegations of wrongdoing.
The government's assertions contradicted evidence seen by BBC correspondents. The United Nations human rights chief has said it seems like "a textbook example of ethnic cleansing".

- BBC News
2017 Dec. 14 - Thursday
2017 Dec. 15 - Friday
2017 Dec. 16 - Saturday
2017 Dec. 17 - Sunday

Genocide survivors
in Bangladesh refugee camps
face new threats.
- Sydney Morning Herald (Australia)
Exceptional special coverage of the Crisis (including the unfolding crisis in the camps), its drama and current state, detailed interviews with victims, extraordinary photos and maps, and detailed background and statistical information from independent and organizational sources.

2017 Dec. 18 - Monday

Myanmar burned Rohingya villages after refugee deal, says rights group.
- The Guardian (U.K.)
(includes before-&-after satellite photos)

Human Rights Watch says:
Satellite images show that dozens of Rohingya villages were burned the week Myanmar signed an agreement with Bangladesh to repatriate hundreds of thousands of refugees.
Evidence that villages were still being damaged as late as 2 December contradicts assurances by the Burmese government that violence had ceased and that the Rohingya could safely return to Myanmar.
HRW said its analysis showed that about 354 villages had been partially or completely destroyed since army "clearance operations" commenced in Rakhine state in August after a series of deadly attacks by Rohingya militants.

It said at least 118 of those villages were damaged after 5 September, which Aung Sang Suu Kyi, Myanmar's de facto leader, has claimed as the official end of army operations in the state.

(same topic at:
- Associated Press / Washington Post
- Sydney Morning Herald (Australia) )

Could Aung San Suu Kyi
face Rohingya genocide charges?
Evidence that attacks on Rohingya were planned and prepared by Myanmar government before ARSA militants attacked.
- BBC

UN High Commissioner for Human Rights (UNHCHR) is determined that the perpetrators of the horrors committed against the Rohingya face justice.
Doesn't rule out the possibility that Myanmar's civilian leader Aung San Suu Kyi, and the head of the armed forces Gen Aung Min Hlaing, could find themselves in the dock on genocide charges some time in the future.
"Given the scale of the military operation, clearly these would have to be decisions taken at a high level," ~ UNHCHR
He has called for an international criminal investigation into the perpetrators of "shockingly brutal attacks" against the Rohingya.
"The thresholds for proof are high... but it wouldn't surprise me in the future if a court were to make such a finding on the basis of what we see." ~UNHCHR
What clearly rankles the UN human rights chief is that he had urged Ms Suu Kyi to take action to protect the Rohingya six months before the explosion of violence in August -- citing prior atrocities -- but she did not.
He thinks Myanmar's military was emboldened when the international community took no action against them after the violence in 2016.
The exteme violence against Rohingya that began August 2017 -- driving hundreds of thousands from Myanmar -- appears to UNHCHR to be "really well thought out and planned."
Myanmar government has said the military action was a response to terrorist attacks in August which killed 12 members of the security forces. But BBC has gathered evidence that shows that preparations for the continued assault on the Rohingya began well before that.

BBC reports that Myanmar had been training and arming local Buddhists. Within weeks of last year's violence the government made an offer: "Every Rakhine national wishing to protect their state will have the chance to become part of the local armed police."
"This was a decision made to effectively perpetrate atrocity crimes against the civilian population," ~Matthew Smith, chief executive of human rights organisation Fortify Rights, which has been investigating the build-up to this year's violence.
That view is borne out by refugees in the refugee camps in Myanmar, who saw those volunteers in action, attacking their Rohingya neighbours and burning down their homes.
By the summer food shortages were widespread in north Rakhine - and the government tightened the screws. From mid-August the authorities had cut off virtually all food and other aid to [Rohingya homeland of] north Rakhine.
Myanmar's army brought in reinforcements. On 10 August -- two weeks before the militant attacks -- it was reported that a battalion had been flown in.
The UN human rights representative for Myanmar was so concerned she issued a public warning , urging restraint from the Myanmar authorities
But when Rohingya militants launched attacks on 30 police posts and an army base, the military response was huge, systematic and devastating.

Almost four months on from those attacks the UNHCHR is concerned the repercussions of the violence are not yet over. He fears this "could just be the opening phases of something much worse".

(same topic, plus video of bodies & burning huts, at:
- Australian Broadcasting Corporation )
2017 Dec. 19 - Tuesday
Myanmar 'planned' Rohingya attacks,
possibly 'genocide':
~ UN rights chief

The UN rights chief said that Myanmar clearly "planned" violent attacks on its Rohingya minority, causing a mass-exodus.
"For us, it was clear ... that these operations were organised and planned." -UN High Commissioner for Human Rights
He warned the crackdown could possibly amount to "genocide".

- Agence France-Presse
/ Channel NewsAsia (Singapore) (Singapore)

As Signs of a Mass Grave Emerge,
Myanmar Cracks Down.

Two journalists arrested last week in Myanmar had obtained photographs from residents of a village in which, the country's army chief has said, a mass grave was found. The area is in northern Rakhine State, where a military campaign against Rohingya Muslims has raged for more than three months.
Three days after the reporters were arrested, five ethnic Rakhine residents of the village of Inn Din, in northern Rakhine, were detained, including the principal of the local school and three teachers. A relative of one of the detained teachers said the five were arrested because they gave some photos and documents to the reporters from Reuters.
U Myint Kyaw, a member of the independent Myanmar Press Council, said he believed the arrests of the reporters and the Rakhine villagers were connected.
Myanmar officials say that the office of the president, which is part of the country's civilian leadership, has authorized the police to proceed with the case against the reporters.
"Now it will be hard to stop the case against the journalists," Mr. Myint Kyaw said. "The government should have done an investigation first," into the existence of the mass grave, he added.
Doctors Without Borders estimated last week that at least 6,700 Rohingya, including 730 children, had died in violence in Myanmar in the month after the crackdown began.
Among the many unanswered questions is what happened to the bodies of those believed to have been killed by the military and by aligned ethnic Rakhine mobs


- New York Times
2017 Dec. 20 - Wednesday
Rohingya Refugees:
How to help the children
- NBC News

Shattered skulls and blood:
Rohingya report
Myanmar massacre


The massacre in Maung Nu, where at least 82 Rohingya are believed to have been murdered on August 27, was part of a streak of violence that started before dawn two days earlier.
What had started out as a quiet Sunday in northwestern Burma had spiraled into an incomprehensible hell — one of the bloodiest massacres reported in the Southeast Asian nation since government forces launched a vicious campaign to drive out the country's Rohingya minority in late August.
By the time it was over, there was so much blood on the ground, it had pooled into long rivulets across the uneven earth, among bits of human flesh and the fragments of shattered skulls.
The Associated Press has reconstructed the massacre at Maung Nu as told by 37 survivors now scattered across refugee camps in Bangladesh.
Their testimony, and exclusive video footage from the massacre site, obtained by AP, offer evidence -- also documented by the United Nations and others -- that Burma's armed forces have systematically killed civilians.
Burma's military did not respond to repeated requests for comment on this story.
Burma's government — which prohibits journalists from independent travel to northern Rakhine State — did not reply to an AP request for a visit.
The army has insisted, in the past, that not a single innocent person has been killed.

- Associated Press
(also at:
- Chicago Tribune
- CBS News
- Toronto Star (Canada) )

Turkish Prime Minister
calls Rohingya killings in Myanmar
'genocide'
- Reuters News Service
2017 Dec. 21 - Thursday
2017 Dec. 22 - Friday
2017 Dec. 23 - Saturday
2017 Dec. 24 - Sunday - Christmas Eve
China and Russia oppose UN resolution on Rohingya.
U.N. adopts resolution
slamming Myanmar crackdown in Rohingya,
defies opposition from China and Russia.
Resolution calls on Myanmar to allow access for aid workers, ensure the return of all refugees and grant full citizenship rights to the Rohingya.

The UN General Assembly has urged Myanmar to end a military campaign against Muslim Rohingya and called for the appointment of a UN special envoy, despite opposition from China, Russia, and some regional countries.
A resolution put forward by the Organisation of Islamic Cooperation was adopted by a vote of 122 to 10 with 24 abstentions.

(China, Russia, Cambodia, Laos, the Philippines and Vietnam joined Myanmar in voting against the measure as did Russian allies Belarus, Syria and Zimbabwe.)

The resolution calls on Myanmar's government to:

allow access for aid workers,
ensure the return of all refugees,
grant full citizenship rights to the Rohingya.

It requests that UN secretary general António Guterres appoint a special envoy to Myanmar.
Last week, the UN special rapporteur for Myanmar, Yanghee Lee, said she had been banned from the country, and that the government had cut off all cooperation with her.

- Agence France-Presse
/ The Guardian (U.K.)

Myanmar, accused of crackdown,
invited to US-Thai military exercise.
The Myanmar military, which has been accused of ethnic cleansing against the country's Muslim Rohingya minority, has been invited back as an observer in a major multinational military exercise next year led by the United States and Thailand.
- The Daily Star (Bangladesh)

---
2017 Dec. 25 - Monday - Christmas
2017 Dec. 26 - Tuesday
Millions raised for Rohingya crisis appeals,
but much more needed.


An international Rohingya crisis appeal has raised $278 million to help deal with the crisis, but that is less than half the amount experts say is needed.
UN and international aid agencies have appealed for $562 million to assist 1.2 million people -- including Rohingya people living in sprawling refugee camps, and Bangladeshis affected by the crisis.

- Sydney Morning Herald (Australia)
2017 Dec. 27 - Wednesday
2017 Dec. 28 - Thursday
UN Gathers Horror Stories from Rohingya Women Fleeing Myanmar.
- VOA News
(U.S. propaganda radio)

U.N. rights investigator calls for pressure
on China, Russia
over Myanmar abuses.

U.N. special rapporteur Yanghee Lee -- who was last week barred by the Myanmar government from visiting the country -- singled out China and Russia, because they failed to back moves in the U.N. aimed at halting the Myanmar military's crackdown on the Rohingya Muslims in Rakhine province.
Neither China nor Russia have joined the US, the European Union, and the Organization of Islamic Cooperation in condemning the crackdown that has led to the exodus of an estimated 655,000 refugees into Bangladesh
The Russian and Chinese stance is particularly important because they have "veto" authority in the U.N. Security Council, so either of them can block the Security Council from referring allegations of "crimes against humanity" to the International Criminal Court (ICC). The ICC cannot act against Myanmar without a Security Council referral, because Myanmar is not an ICC member.
The Myanmar armed forces are accused by members of the Rohingya community, and human rights advocates, of carrying out killings, rapes and village burnings -- in what top officials in the United Nations and United States have described as "ethnic cleansing."


- Reuters News Service
British medics tackle Rohingya diphtheria outbreak.
More than 40 British doctors, nurses and firefighters will lead an emergency response after reports of more than 2,000 cases.
- Sky News (U.K.)
2017 Dec. 29 - Friday
Bangladesh targets 100,000 for first Rohingya repatriation.
- Agence France-Presse (AFP)


The Bangladeshi government relief commissioner for Rohingya refugees, said a decision was made Thursday by Bangladeshi members of the repatriation working group to send a list of 100,000 refugees to Myanmar.
He told AFP repatriations would begin after Myanmar verifies the list and the authorities in Bangladesh get consent from willing refugees.
Most Rohingya refugees approached by AFP in the camps insist they do not want to return, saying Rakhine is not safe enough.
Diplomats have expressed doubt about whether Myanmar will allow substantial numbers to return.

Rohingya Repatriation:
450 to return in first batch.
Myanmar plans to start it by taking back displaced Hindu families on January 22
- The Daily Star (Bangladesh)

The senior diplomat at the Myanmar Embassy said the returnees will be initially kept at... two camps.
Later, the Rohingyas whose houses were not destroyed would be allowed to go back to their homes.
But those who lost their houses in the attacks have to stay temporarily in the barracks until new houses are built for them, said the diplomat.
During their stay at the temporary camps, the Myanmar Ministry of Social Welfare, Relief and Resettlement will arrange for their food and needs. They will also be able to earn by working at construction sites under the plan "Cash for Work", the diplomat mentioned.
Foreign affairs and migration experts cast doubt about "safe and voluntary" return of the refugees, as the stringent verification conditions may obstruct smooth repatriation.
2017 Dec. 30 - Saturday
Rohingya refugee horror stories
'beyond comprehension.'
Simon Murphy has documented human rights abuses in countries including the Democratic Republic of Congo, South Sudan, Ethiopia and Colombia.
But nothing prepared him for a trip to Bangladesh to photograph families who have fled Myanmar.
- BBC News
2017 Dec. 31 - Sunday - New Year's Eve
---
---
Also see:

Current Affairs Summary
Prior News 2013-2017
2018 Crisis News
2019 Crisis News
2020 Crisis News
---
---
---
---