Aviation Education
Programs & Events
The Aviation Answer-Man provides professional aviation education courses, training programs, guest lectures, multimedia presentations, film and TV appearances, and public events - for a wide range of topics,
including: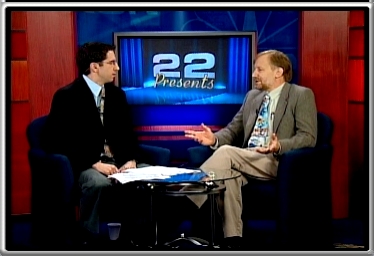 Pilot Training & Aviation Trade Skills
Aviation Careers
Aviation Technology
Aviation Industry
Aviation History
An FAA-certified aeronautics instructor, with a state teaching certificate in adult education, and years of teaching and training experience, the Aviation Answer-Man has provided aviation presentations to audiences of dozens, hundreds, and thousands.
With broad knowledge and experience in aviation, and extensive formal training and experience in communications, the Aviation Answer-Man provides stimulating and memorable aviation learning experiences.
'Aviation Answer-Man' Richard Harris, giving a presentation on Kansas aviation history at the Kickoff event of the Kansas Aviation Centennial.

Harris has provided public and private education through such diverse methods as:
Lectures at colleges and universities.
Development & teaching of collegiate training programs.
Traveling presentations for educational organizations.
Museum presentations & educational exhibits.
Educational films and television programs
Educational and informational websites
Pilot ground schools and tutoring.
Airshow advising and announcing.
Known for a dynamic and engaging style, mixed with professional skills and a broad range of aviation expertise, the Aviation Answer-Man brings new life to aviation education.
Some of the Aviation Answer-Man's customers and hosts (most of them repeat clients) have
included:
Wichita State University
Wichita Area Technical College
Friends University
Butler Community College
Johnson County Community College
American Aviation Historical Society
Kansas Humanties Council
Kansas Aviation Centennial
Kansas Flight Festival
Kansas State (television) Network

During the world's biggest fly-in and airshow, in Oshkosh, Wisconsin, the 'Aviation Answer-Man' Richard Harris, explains museum exhibits for the EAA AirVenture Museum, one of the nation's most respected aviation museums. (MORE....)

National Biplane Fly-In
EAA AirVenture Museum,
Fly-In & Airshow (Oshkosh, Wisc.)
Kansas Aviation Museum
Wichita / Sedgwick County Historical Museum
Civil Air Patrol
FAA
NASA
...and many others.

Shouldn't YOUR ORGANIZATION be on this list?

<! ----- "CONTACT US" table ---------- !>

call the
Aviation Answer-Man
at
Richard Harris & Associates
200 W. Douglas, #600, Wichita, KS 67202




To E-mail us, CLICK HERE.