And then they became entangled in numerous controversies, including questions about whether they could, or would, deliver on their promises.
Some of their developments failed to meet criteria for planned financing. Funding-cashflow demands overwhelmed their operations. They asked the city for more tax money -- getting a tentative "no" from wary Council members, once enthusiastic supporters (with some of their campaigns largely funded by the Minnesota Guys).
Real Development's plans began to falter. Financing woes, and hints of inability to deliver. Tax increment financing (TIF) demands made upon the city. Allegations by state authorities of criminal finance schemes. Much of the Minnesota Guys grand plans seemed to stumble and collapse -- threatening the heart of Downtown Wichita, and its revitalization.
Questions were raised in City Council and Mayor elections about the extent to which the campaigns of some Council members and the Mayor were funded by the Minnesota Guys and their business associates.
The City Council promoted a referendum to adopt a sales tax to fund city improvements (including downtown and related transit and transporation infrastructrure). The sales tax was defeated -- largely by opponents citing the failure of the City's partnership with Real Development, and questioning, as a result, whether more money could be entrusted to the City Council.
Starting in the previous year (see 2010 Spring page), these troubles -- threatening the entire "Mayor's Vision for Downtown" -- became a separate running narrative, that is also partially documented in the sequence below:
Real Development
- the Minnesota Guys
---
---
---
PHOTOS
(click to enlarge)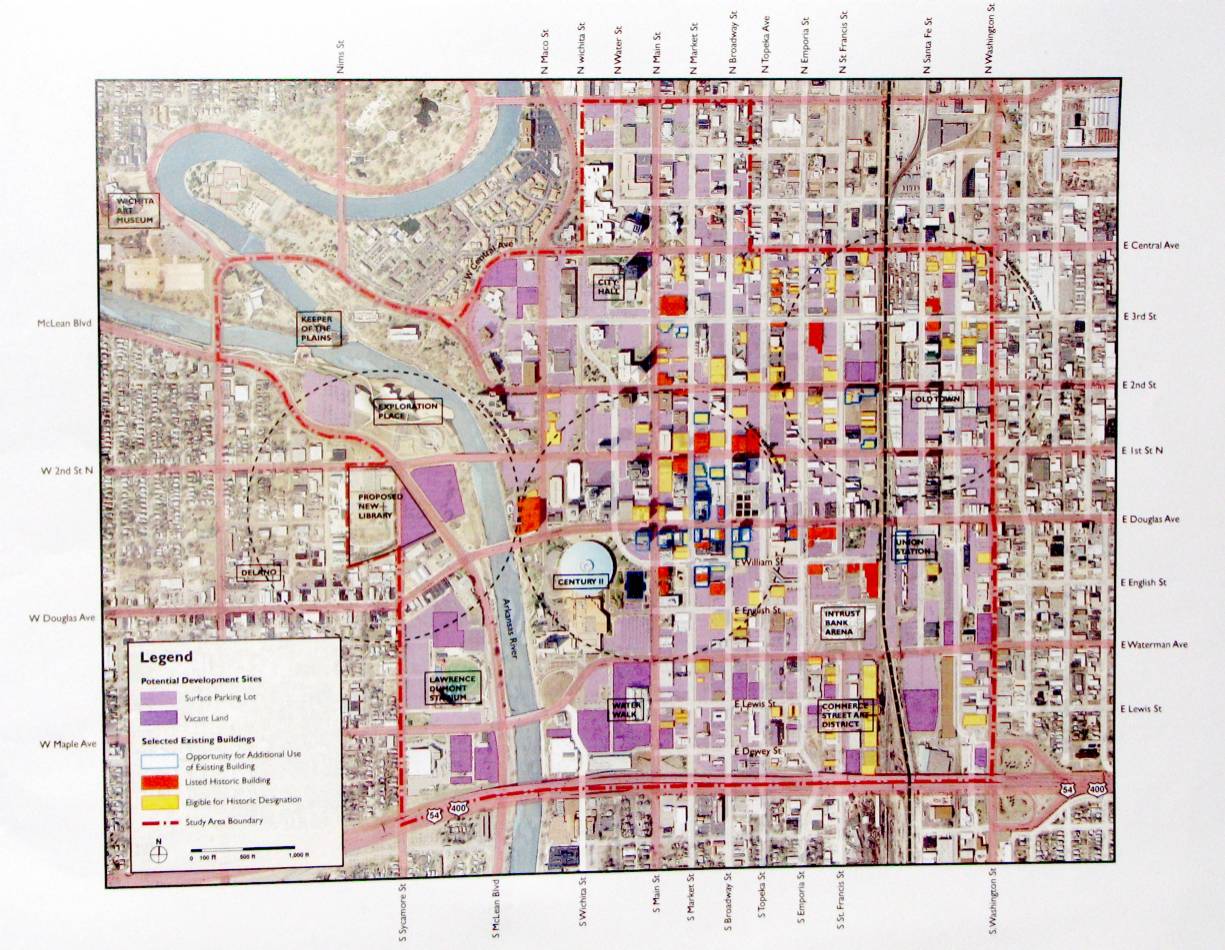 The downtown planning map. Dark purple is vacant land, light purple is parking. Orange-red are officially "historic" buildings, allowing "historic preservation" funds, with regulatory strings. Yellow buildings are eligible for "historic" status. Blue-outlined buildings have "potential" for "additional use."
---

Downtown development map marked up by Charette "Group 2" -- showing "green-space" improvements along the river, along with yellow apartment buildings, and a magenta hotel. Blue office buildings sprout along 2nd street, while a south-downtown "transportation hub" area -- with parking, mass transit, bikeways, walkways and streets -- connects Kellogg traffic, Century II, and the Arena area (circled in red to note recommended retail/dining development).
---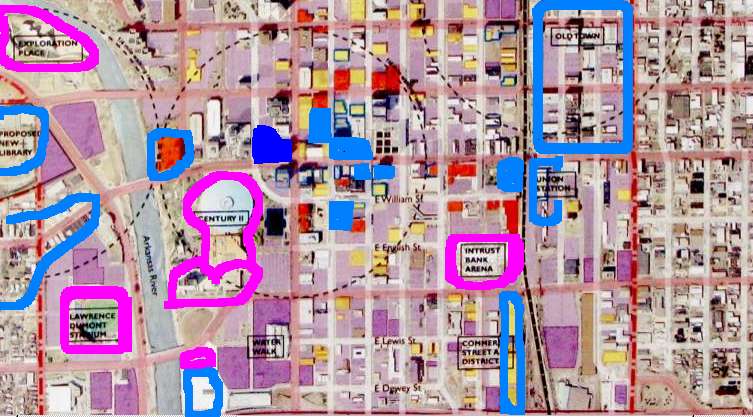 Downtown closeup -- buildings & projects already arranged or completed before consultant's plan released. (Click to enlarge.)
RED-ORANGE: Historic buildings (to be preserved).
MAGENTA: Existing major entertainment venues.
LIGHT BLUE: Developments already completed, underway, or being arranged.
DARK BLUE: Existing major business building complex (unlikely to change) (Intrust Bank).
---
---
---
The WaterWalk Saga:
In the early 2000's, the City and its developers became infatuated with the fantasy of creating a riverside park attraction on the East Bank of the Arkansas River, between Kellogg and the Century II / Hyatt Hotel complex.
Initially inspired, in part, by the downtown development of San Antonio, Texas, the WaterWalk plan envisioned a similar downtown playground-park, with a canal snaking through the neighborhood, carrying boat passengers through a wonderland of gardens, fountains, waterfalls, and amusements.
WaterWalk was to be a tourist attraction, which would fuel occupancy at new and existing hotels and restaurants, and the Century II Convention Center, bringing outside money to Wichita.
The principal developer would be Jack deBoer -- a legendary local property developer who, at his peak, was the nation's 2nd largest apartment developer, and then "invented" the upscale long-stay motel -- Residence Inn (later Marriott Suites), Candlewood Suites, and Southampton Inns.
It was hoped that an outdoors-outfitters shop chain -- Bass Pro Shops -- would add a large store on the site. Though they did not, eventually another outfitter, Gander Mountain, did build a massive store immediately north of the Kellogg overpass, on the riverbank, next to the new Boathouse (which was hoped to be integral to the water-based entertainments along the riverbank)
The "vision" of a grand waterfront playground and commercial complex continued to be touted.
It never happened.
A string of budget-and-financing busts, scaled-back plans, and commercial failures, crippled and crumbled the grand scheme -- into a tawdry, costly fiasco.
Today, nearly two decades after the planning began, there is no canal, let alone the paradise park that was to surround it. A planned amphitheater is just a flat, empty dirt-and-scrubbrush vacant lot.
The only entertainment that emerged was a "dancing" fountain, that bounced sprays of colorfully illiuminated water to music -- for a couple of hours, a few evenings a week, during warm weather -- if the fountains are working (which they often are not). The audience must sit on the ground.
The new Boathouse -- once envisioned as a substitute for the once-beloved, long-mourned, original recreational boathouse in Riverside Park (demolished in 1968 to make room for an office building parking lot) -- was bounced around from party to party, eventually becoming just an occassional party house for the rich and powerful. It never succeeded in being a truly public recreational site anything like its long-lost namesake.
After several years of modest activity, the Gander Mountain store closed, along with the entire national chain, when they all went bust. It's been vacant, now, for years.
The city built a long, three-story parking garage beside the Kellogg overpass, to accommodate the expected throngs. It's usually empty.
deBoer built a large hotel near the fountains, which became one of the chain of Fairfield Inns. It usually appears mostly empty (to this observer).
deBoer's first long-stay motel, the original "Residence Inn" is just on the other side of the Kellogg overpass, and was envisioned as an element of the WaterWalk ecosystem. It was changed to a regular motel, and foundered during the COVID epidemic, and was then remarketed as costly apartments.
Other developments were stalled for lack of money. And, in March, 2021, the lead developer --
90-year-old Jack deBoer, on whom so much revolved -- died.
Still, the city's downtown-development boosters -- City government (which has sunk a fortune into the projects), the Chamber of Commerce (whose members continue to fantasize about attracting out-of-town money), and developers (who make money building, whether the buildings make money or not), and their allies, dependents and surrogates, along with perpetual optimists -- continue to "envision" a "great" future for this corner of downtown.
But the current vision for "WaterWalk" is certainly nothing so grand as what was originally planned. Now, it seems largely to have drifted, in focus, to efforts to get the City Council to surrender the Century II complex to the wrecking ball, so local developers (the chief financiers of City Council campaigns) can make a fortune, at taxpayer expense, building its replacements, partly around the WaterWalk grounds.
For a partial history of WaterWalk, here, below, are some key WaterWalk news reports (also repeated in the overall downtown news listings at left):
2003-12-02
City Council votes in support of WaterWalk plan changes - WBJ
2008-12-12
Wichita WaterWalk asks for change in master plan - WBJ
2012-10-22
Waltzing Waters fountains undergoing repairs - Eagle
2017-07-07
WaterWalk profit-sharing: 15 years, zero dollars for Wichita - Eagle
2020-06-22
Site of Jack DeBoer's first Residence Inn becomes his latest new development:
Hotel at WaterWalk converts to Main Street Residences - Eagle
2020-10-08
DeBoer replaces plans for downtown office building with an Opportunity Zone-backed apartment project -WBJ - Eagle
2021-01-07
WaterWalk's downtown apartment project delayed by unexpected spike in costs - Eagle
2021-01-07
Jack DeBoer's WaterWalk apartments will be delayed due to finance and design issues - Eagle
2021-01-07
Wichita WaterWalk Gateway Apartments delayed, but still a go:
Downtown apartment project delayed by unexpected spike in costs - WBJ