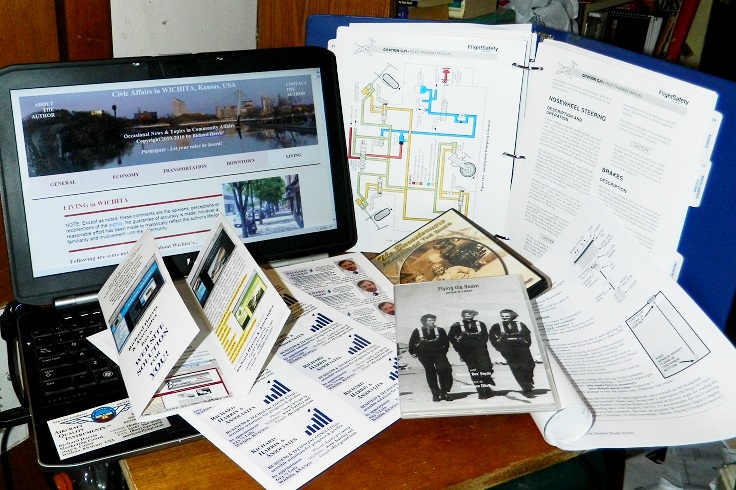 Our professionals have a wide range of credentials in many skill-areas related to successful communications, and particularly in the fields of media and education, including...
---

Teaching
(Teaching experience in multiple fields, with over 500 adult students taught. State board-certified adult-education teacher. Federally-certified technical instructor. Former curriculum developer. Former member of the WSU Curriculum Committee. Member of an educational broadcasting advisory group.)

---

Communications
(Widely-experienced journalist, broadcaster, public speaker and technical writer, published in national media and elsewhere -- including major newspapers, national magazines
and
business media.

Collegiate minor in communications. Ranked by the College Board in the top 2% of American collegians in English composition, with Honors coursework.

Member of the editorial board of a national publication. Five-year veteran judge for a major international journalism awards program.)

---

Illustration

(Academically trained,
widely experienced
computer-graphics pro,
technical illustrator. and photographer,
nationally published.)

---

Communications Technology
(Formal training in video, audio & computer-based media, along with management experience in
desktop publishing & commercial
pre-press.

Experience in broadcasting and online (internet) media. Award-winning web site developer. )

---

Writing Productivity
(Experience working under deadlines, and experience generating very large, accurate, technical articles and reports. Touch typists with word-processing expertise.
We've written and edited published materials -- from press releases, to newspaper and magazine articles, to academic papers and technical manuals -- with upwards of 3,000 words in a day.)
---
Our customers, clients & employers (for communications work) have included:
Documentary Filmmakers
Radio and Television Media
Online News Media
Leading Newspapers
National and International Magazines
Industry Newsletters
Peer-Reviewed Journals
Colleges & Universities
Major Aircraft Manufacturers
Other Major National Manufacturers
Various large service enterprises
and many MORE!
---
We're able to communicate with ANYONE -- equally comfortable with complex technical dissertations

or plain-language writing for the average non-technical consumer, and have earned a reputation for very comprehensible teaching for the novice. We know how to make things clear, and realize the importance of doing so.
We have excellent research resources, at our disposal,

including our own 1,000+-volume library, with hundreds of books, magazines, manuals, brochures, reports and other documents -- in business, economics, history, politics, government, law, science, technology and communications.
In addition, we have ready access to two vast collections of research documents: at the Wichita Public Library, and the archives of Wichita State University (with a huge federal repository of archived and current government documents), as well as several specialty libraries in the Wichita area..
And of course there are the infinite resources of telephone and Internet

-- both of which we're exceptionally proficient in using for deep, fast research.
With our knowledge and professional experience in communications we can do much of the pre-press work for you (from proofreading, to design, to final proofs) in consultation with you -- unburdening your production schedule, accelerating the availability of the product, and possibly even reducing its development cost.
For more information on Education, Media & Communications Services provided by Richard Harris & Associates, call or e-mail:
<! font color="#0040af"> Richard Harris & Associates
email: office@harris1.net