REPORTING to SEARCH ENGINES
(GOOGLE & YAHOO)

We notify the leading search engines -- Google.com and Yahoo.com -- about your website's existence, and its address, so they can include it in their responses to information searches by visitors to their websites. (NOTE: While we cannot control their listings, and whether or not they choose to list your site in their information, our clients generally receive good placement in relevant search responses on on both Google and Yahoo.)
---
The whole package -- EVERYTHING YOU NEED: design work, writing, photography, graphics, domain name registration, web site uploading, a full year's internet web hosting (connecting to the internet), search engine notification, is all provided for this special, limited-time offer: a one-time charge of only $640.
We provide you with the password, and set up your private ownership of your web site.
(If you prefer, we can manage the site for you).
Think of your basic web site as your own BASIC company billboard or brochure -- posted on the Internet, for the whole world to see, for a whole year. (You can remove it any time you like, or -- for an additional charge -- have someone revise it.)
After you've paid, and we've set up your web site, YOU own it, and are not charged anything else for the year's service. Additional years of service may be arranged with your web-hosting service directly -- or with any other web-hosting service you choose (or you can purchase them, in advance, through us).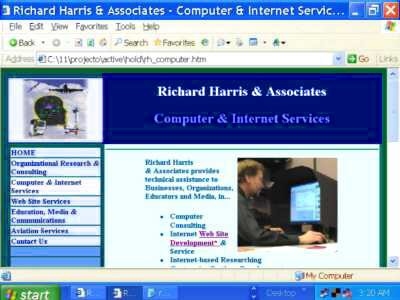 If you decide you want additional services -- such as:
Additional pages;
Extra pictures;
Revisions to the text;
Regular updates;
Color/style changes;
Detailed listing notifications to search engines (like Google.com, Yahoo.com, etc.)
-- call us and we will discuss rates (we're pretty cheap). But you are NOT limited to using our services to change your website! If you prefer, you can go to ANY OTHER WEB DEVELOPER, and do business with them, instead. The website is yours, and you can choose whatever web-developer you want to revise it.

Either way, once it's set up and paid for...
your web site is simply YOURS to do with as you please. YOU own it!

If you've been wishing you had a simple, honest-to-goodness, respectable-looking, professional web site of your OWN -- with no strings attached, and no gimmicks to foul things up -- for one basic, low price, then this is a rare chance.

Our resources include an award-winning

web site developer, a state-certified computer instructor, and Richard Harris' 20-year experience as a computer programmer, analyst, manager and consultant.
Of course, we have a "fine print" LEGAL DISCLAIMER (click here). Please read it before contacting us.

We've also provided an explanation of HOW WE DEVELOP YOUR WEBSITE (click here).
This offer is good until November 30th. So if you need a complete, professional web site you can easily afford -- for just $640 for a whole year -- act NOW.
E-mail us -- at: office@harris1.net
-- OR call us at 371-9079.
Offer ends November 30th -- so reply to us now, and let's get your web site started.
See you on the Internet -- soon!
~ Richard Harris
<! font color="#0040af"> Richard Harris & Associates
e-mail: office@harris1.net
(316) 371-9079
TO RETURN TO THE TOP, AND THE MENUS
CLICK HERE.